Residential Garden Design, Consulting and Planting
| | |
| --- | --- |
| Posted on January 23, 2020 at 12:10 PM | |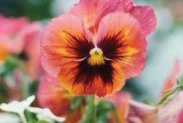 This week's winter flowering plant entry #4 will be about pansies.
They are tough little flowers that can be planted in the fall and will last until the first hot day in late spring. They come in all colors! If you can't find the color you need, call me and I'll find it....it's my job!
Pansies may get buried under the snow but don't worry, when that stuff melts away they will bounce back. Pinch of any faded or melted flowers once a week and it will promote more growth and more flowers. Keep maintaining them and watch for mildew, snails, slugs and more recently, bunny munching and they will grow bigger and cascade over your planters edges. Don't overwater them, this time of year they get plenty of moisture. Although if you have them planted in a pot against your house, check that the soil is moist and doesn't dry out.
Pansies and violas (like mini pansies) are edible. They have a peppery flavor and are a great topper for salads or add fun splash of color to any cocktail.
Stay tuned for more nerdy plant entries next week! Have a good weekend
Categories: Winter Tips
/